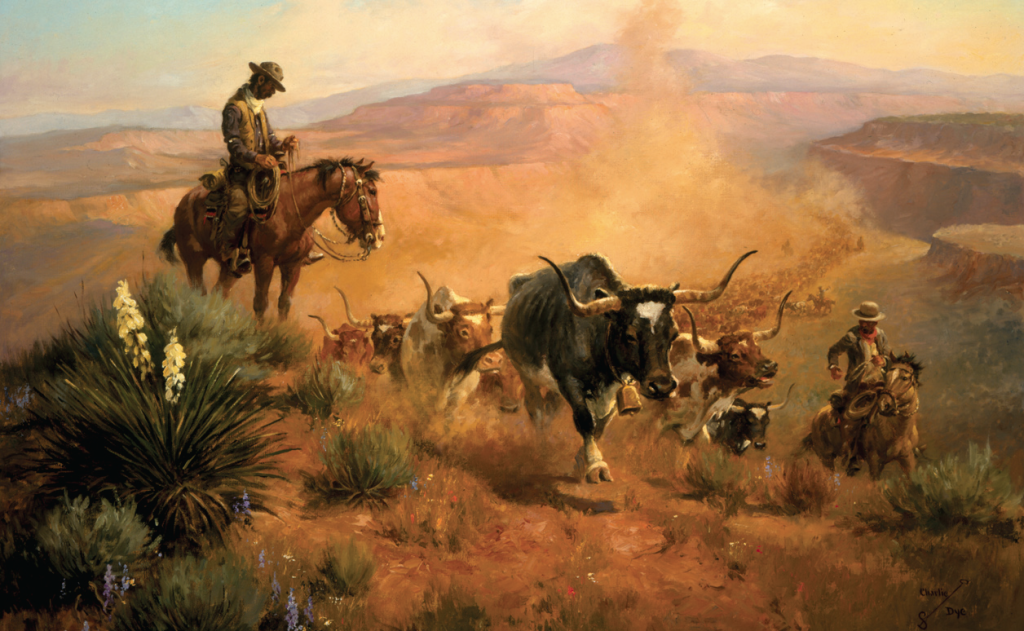 Old Blue by Charlie Dye
Cattle drives like the Goodnight-Loving would come through Fort Phantom on their way to Abilene.
Digs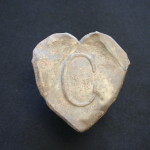 In 1998, a team of sixteen archaeologists conducted a five-week "dig" at Fort Phantom Hill. The dig was part of a four-part historical research project at Fort Phantom designed to give a more accurate picture of the fort and its history.  The project included a topographic survey and creation of an accurate base map of the site, a comprehensive architectural survey of the remains of the fort, and an archeological study. In addition, historian Martha Doty Freeman of Austin, Texas, was commissioned to research historical archives and develop a complete bibliography and history of the site.
The Fort Phantom Foundation reminds visitors that the public is welcomed to experience the historic site, but it is unlawful to disfigure, remove, excavate, or destroy any structure or artifact at Fort Phantom Hill.
[jbutton color="brown" size="small" link="?page_id=49″]Read more about Digs[/jbutton]
Fort Phantom Rendezvous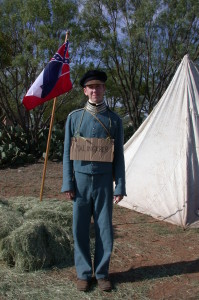 For several years in a row (1999-2003), Fort Phantom was the focus of 106 living historians who re-enacted life at the Fort. Complete with over 50 camp sites, Indian dancers, Butterfield Stagecoach rides, black powder shooting, and countless other activities, folks from the Abilene area and across the state enjoyed a sense of realism as participants exhibited period-appropriate activities and attire.
Henry Crawford, curator of the Texas Tech University history museum in Lubbock, Texas pointed out that events like the Rendezvous at Fort Phantom give life to historical places and objects.
"For example," said Crawford," You might look at a musket in an exhibit case in a museum, but it's a whole different experience to be able to see a whole line of them firing, as you might at the Rendezvous. You can read all you want, but until you personally experience things, you can't truly understand them."
[jbutton color="brown" size="small" link="?page_id=314″]Read more about Rendezvous[/jbutton]
Music Video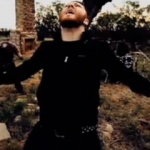 Platinum-record-selling Southern rock band Saving Abel from Mississippi shot their latest music video at Fort Phantom Hill.  As the drummer drums and the guitarist strums, viewers can see the towering chimney stacks, mesquite trees, and rocky soil around the fort area.
[jbutton color="brown" size="small" link="?page_id=318″]Read more about the music video event[/jbutton]