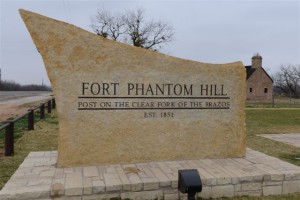 The Fort Phantom Foundation

The primary 38-acre site of Fort Phantom Hill was contributed to the Fort Phantom Foundation in 1997 by Mr. and Mrs. Jim Alexander of Abilene. The site has been open to the public since 1972 and is presently maintained and operated by the foundation.

The nonprofit Fort Phantom Foundation is supported by grants and by donations from individuals and organizations. Inquiries are welcome.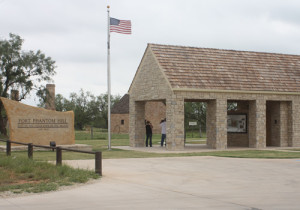 Visitor Facilities at Fort Phantom Hill

Fort Phantom Hill is open to visitors daily from dawn until dusk. Landmarks are labeled with informational signs, and free brochures about the site are available for visitors. The site is a self-guided tour and is free of charge. Ample parking is provided, and, surprisingly, this rustic site offers nice public restroom facilities.

Restrooms? Yes! We have restroom facilities on site.
Rules for visiting Fort Phantom:

The foundation welcomes the public to experience this historic site, but reminds visitors that it is unlawful to disfigure, remove, excavate, or destroy any structure or artifact at Fort Phantom Hill.
Please observe the following rules of conduct while at the Fort:
Open from sun-up to sun-down
Dogs are allowed (caution: grass burrs)
No camping
No alcohol
No open fire
No metal detectors
Wheelchair Accessibility
Parts of Fort Phantom Hill are wheelchair accessible, but please remember this is a rustic site. Trails are not paved and are not always level.
Area Lodging
The nearest lodging to Fort Phantom Hill are both on Interstate 20 and FM 600 (aka West Lake Road).  However, we have four nice hotels in a short distance from the fort:
Hampton Inn & Suites – Abilene I-20 – 325.673.4400
La Quinta Inn – Abilene I-20 –  325.676.1676
Sleep Inn & Suites – Killough Cove – 325.437.9601
Best Western Inn & Suites – Overland Trail – 325.672.5501
The first two are just across the street from the Denny's, too!
Photo and Video Credits
Fort Phantom is also privileged to have several donated photographs and videos on the website (like the two shown above). We would like to thank all who have generously shared their talents and productions with Fort Phantom for the benefit of others. We encourage you to take photographs and send them in!

Photographers and videographers whose work is shown on this site include:
Traci Crawford
Scott Galusha
David Gibson
Dixie Hoover
Mark Shannon
Donald Philip Simpson
Rebel Taylor
Texas Forts Trail

Fort Phantom Hill is part of the Texas Forts Trail, a 650-mile highway tour of historic Texas forts in West Central Texas. The Texas Forts Trail website describes it this way:
"The frontier forts of Texas were lonely outposts in wild country. As settlers streamed west with dreams of new opportunity, the federal government established lines of forts to protect Texans on the advancing frontier. The passions of that era often resulted in conflict: frontiersmen on one side, tough and self-reliant, accustomed to taking what they wanted; Native Americans on the other side, resentful of intruders into their domain. In between stood the frontier soldier. His hardships were many and his dangers very real. Usually, the soldier built the fort—he felled trees and shaped crude timber, quarried stone and heaved both into place with muscle and sweat. As frayed tents gave way to barracks, the soldier looked around and found the nucleus of a town huddling in the safety of the new fort. "Civilization" had arrived—the frontier had moved. Along with it marched the soldier, trekking farther west into an uncertain environment.
"From 1848 to 1900, the U.S. Army built 44 major posts and set up more than 100 temporary camps in Texas, the nation's largest military department. In addition, a number of earlier Republic-era forts, private bastions erected by pioneer families, and a host of much older presidios (forts) from the Spanish colonial period had been built and abandoned."
[jbutton color="brown" size="small" link="http://texasfortstrail.com"]Texas Forts Trail Website[/jbutton]
[jbutton color="brown" size="small" link="http://texasfortstrail.com/map"]Texas Forts Trail Interactive Map[/jbutton]